Skip to Content
A Family Business firmly Committed to Best Pest Control Practices
Professional Pest Control (PPC), when Dick Freye established the firm in 1968, has always been a family business. Today in its 3rd generation it still is, with a new family in charge firmly guided by the wisdom and experience of the old.
Tom Fraser, who served as General Manager at PPC since 2009, purchased the company from Rick Freye in January of 2017. Tom had in-depth experience at the company, having worked as a technician at PPC since 1988. He learned the business the right way: on the frontline, serving customers, running a route as the 11th technician at PPC over 30 years ago.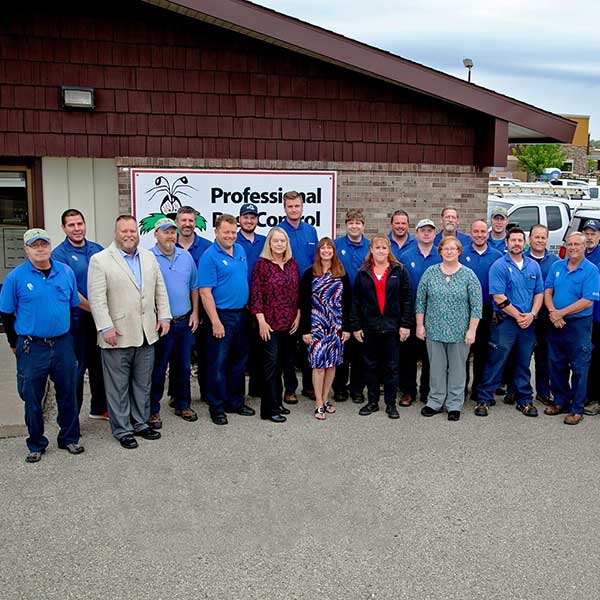 Best Pest Control Practices
However, Tom didn't have his sights set on pest control or business ownership some 30 years ago. In those days, his sights were set on mixing drinks and pouring beer. He worked at a local bar where Dick would sometimes stop in for a bite to eat. Turns out, the bar was up for sale and Dick kept his eye on the young bartender. Tom went to work for the new owners but knew he needed out. Dick wasn't quite ready to hire another employee yet, but Tom persisted saying, "You need to hire me now or someone else will get a good employee for a long time."
Well, the offer to work was made and Dick knew he was hiring a good, long-term employee. He probably didn't know then that some 30 years later, it was the man who would assume ownership following his son Rick.
Stepping Back in Time
Dick Freye began his career in pest control as a technician and later as a branch manager for Wil-Kil in Madison in the mid-1960s. He established Professional Pest Control in March of 1968. Dick grew the company through a firm commitment to customer service and integrity.
Rick Freye started working for his Dad at PPC when he was 16 and still in high school, learning the ropes a few nights and on weekends. After high school, Rick worked in the HVAC industry for 12 years. One day Dick asked Rick if he wanted to get involved in the family business. Rick considered the opportunity and joined PPC in 1987 as a service technician with a regular route.
Rick learned the business from the ground up, grasping fully what customers expected and what they needed. Rick assumed the position of General Manager in 2000 and took over as owner in 2007. Today, PPC serves all of South Central Wisconsin and Northern Illinois. Rick remains on board as a valued consultant as the company nears its 5th decade of service.
A Commitment to Best Practices and the Wisconsin Pest Control Association (WPCA)
PPC has also been committed to the overall industry itself. PPC's history is closely interwoven with that of the professional trade association, WPCA. Early on in his career, Dick got involved with WPCA where he served as President on three occasions, and also served as Vice President, Secretary, Treasurer, and Sergeant at Arms. In 1991 Dick was bestowed a lifetime, honorary WPCA membership.
Rick also served the industry for better than 18 years as WPCA President, Treasurer, and member of the Board of Directors. Tom has served on the board of directors since 2011, as well as the WPCA. He also served as the President for 4 years and is currently serving as the immediate past president.
PPC today has nearly 30 employees — many of them are WPCA certified Master Technicians, and all technicians are state certified by the Wisconsin Department of Agriculture, Trade, and Consumer Protection. We will resolve your pest problem effectively, promptly, and with a smile.